Focus on Horsham parkrun
Horsham parkrun in West Sussex joined the parkrun family in September 2014 and since then they have welcomed nearly 8,000 different people to their park.
Richard Mullans is a Core Team member at Horsham parkrun, and he tells us more about the event he calls home…
Having run marathons and half marathons until my early 50s, I wanted to get back into running and decided to try my nearest parkrun, which was Horsham.
There is a great camaraderie at Horsham, where all of the walkers, joggers and runners whatever their standard all encourage others to improve. From my initial intentions of 'one every now and then' I became addicted, and eventually became a Run Director!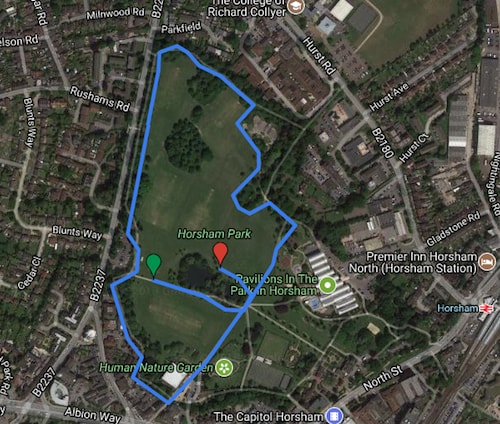 Our course is set in Horsham Park on North Street in Horsham, West Sussex. The park is beautiful and is a haven of green space with a lake, trees, wildlife and colourful flowerbeds.
We meet on the opposite side of the pond to the assembly point, following the path to join the main course. The route is a three-lapper around the outside of the park, over a mixture of grass and tarmac with a slight incline on each lap.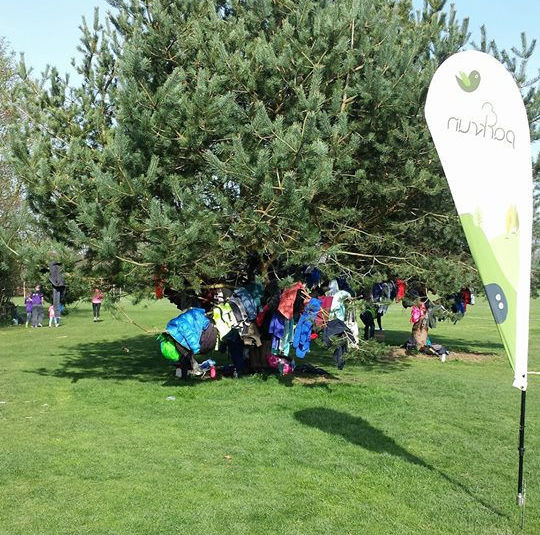 Our most famous landmark with the locals is the 'Hanging Tree' which has become a popular spot for our parkrunners to leave their bags and tops while they enjoy their parkrun.
We believe it's a really friendly, welcoming event set in a very beautiful park with so many amenities. It's also immensely popular, regularly welcoming over 400 parkrunners to our event every Saturday.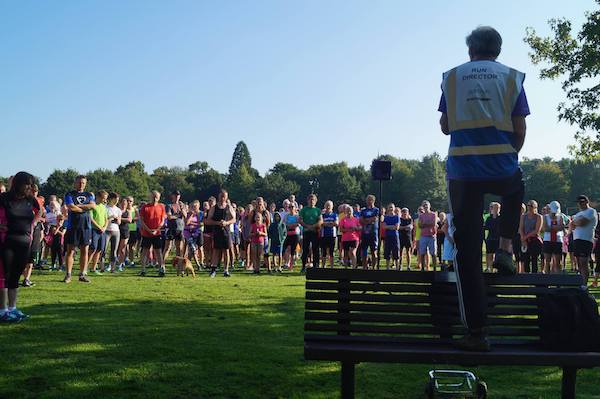 In terms of facilties, there are toilets available in the Pavilions In The Park and also in the Superbowl car park. Parking is available too at Pavilions in the park on Hurst road, the Horsham Superbowl car park off Albion Way and North street.
Horsham train station is also only five minutes away from the park, with main line links to London and the South coast making it a popular destination with tourists.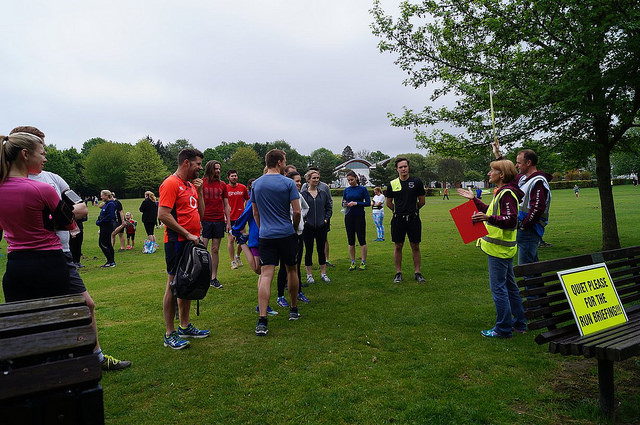 After parkrun we go for the all-important post-parkrun coffee at the the Conservatory Café, a splendid eatery within our park.
It has with plenty of seating, inside and out, with a good selection of drinks and food. We also get a discount on production of our barcodes!
One of our regulars, Kathryn Woodruffe, ran through her pregnancy and actually turned up and ran when she was one day overdue and she even got a PB!
We have received great support from our local community, in that we have a few locals who volunteer but never run, and we have tried to give back where we can. To help our land owners, we have also been involved in getting a section of the park re-grassed.
We feel very lucky to have an event that has been embraced by so many different people and the various stakeholders, and we would love to see you at Horsham soon!
The Horsham parkrun website is here and their Facebook page is here.